Specifications
Type: TableTop
Speed Type: Low Speed (≤10000rpm)
Max speed rpm: 4000
Application: Beauty, Hematocrit, Cell Smear
hand crank operated centrifuge machine
is used in chemical, biological laboratories and hospital lab to do centrifugal saparation. it is powered by your hand, you can control the speed by your hand.
(Handle of the Hand Crank Manual Centrifuge machine, detachable)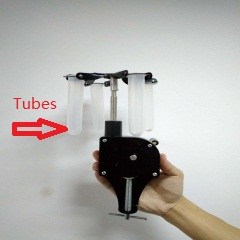 you can put tubes which is less than 15ml volume, and less than 4 pieces at the same time.
Technical date Of
hand crank operated centrifuge machine
:
Capacity: 15ml*4
Package size: 28*14*6cm
G.W/N.W: 3kg/2.5 kg
If this model can't satisfy your request, please click following links to check more other models.



Contact Us Now, Get Discount Now,
Shipping Information:
G.W: 2.5kg
Packing Size: 0.2m,0.15m,0.1m
Unit: Piece
Special: No