What is Anaesthesia Machine?
Anesthesia machine is used for operation room, which is designed to provide an accurate and continuous supply of medical gases,
the common anaesthetic vapour is
Enflurane/ Isoflurane/Sevoflurane/Halothane
, different surgery will request for different vapour,
One anesthesia machine can be optional the
patient monitor
, which is used for monitoring patient life paramters.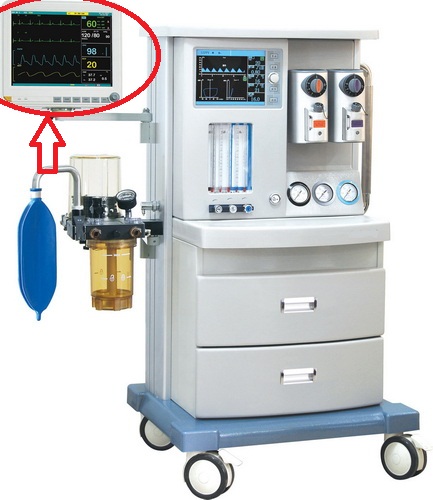 (Anesthesia machine with patient monitor)
Different country has different name, USA people always call
anesthesia machine
, UK people always call it as
anaesthetic machine
.
some people called it
Anesthesiology Machine
,
Anesthesia Workstation
and others
Anesthesia system is also request main machine, also have some other disposable items, such as
guedel airway
,
disposable anesthesia air filter
,
EVA breathing tube
,
intubation tube
,
Anesthesia Needle
and so on.
How to choose an anesthesia machine ?
1, you need to confirm with your Anesthesiologist, what kind of anesthesia gas will him requests.
Some machine is with one vaporizer, it is basic model, it is always more cheap.
Some machine is with two vaporizer, which you can put two kinds of gas to use in the machine, and switch that.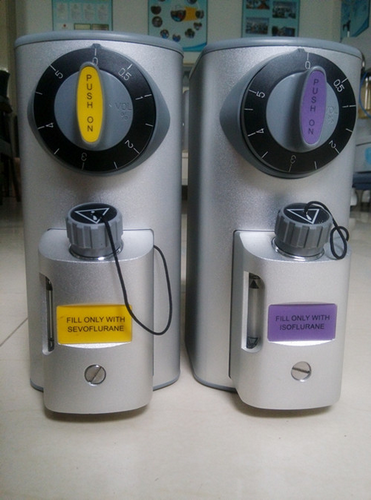 (Anesthesia vaporizer)
2,portable or trolley type
Port anesthesia machine is awlays used for Emergency and other suitables.
Trolley model is always used in clinics and hospital
3,Alarm Parameters,
Alarm function is used for monitoring the Anesthsia gas to keep patient saftey.
so the more Alarm parameters can keeps, the more advanced is this machine.
and other factors,
welcome to comment, then we can update more information this article.
if it is useful for you, welcome to share to your doctor friends, then it can also help them.